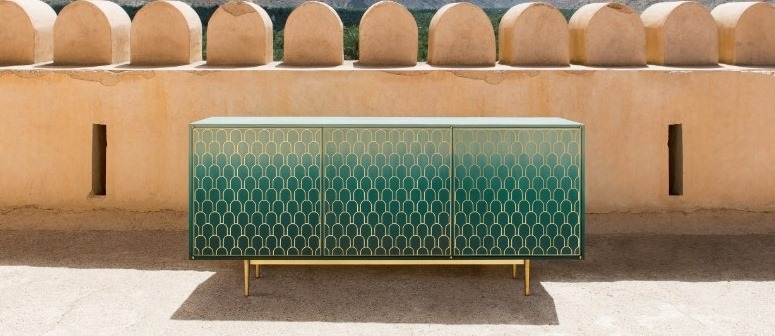 Bethan Gray is a descendant of a nomadic Rajasthani clan that migrated across Arabia and Persia over centuries. Inspired by her heritage and fuelled by a deep-seated curiosity about global art and culture, Bethan has travelled to India, Asia, the Middle East, Northern Africa and South America.
Bethan Gray Design was established in 2008 following a 10-year career as Habitat's design director provided. Her contribution to craft and design was recognised when she won Best British Designer at the 2013 Elle Design awards and more recently the coveted Best British Designer and an honorary Fellowship of Cardiff Metropolitan University. Her creative work has as its heart an equal partnership built on mutual trust and respect and is characterised by empathy, originality and instinctive talent through the use of wood and marble to create furniture and her signature striped marble tableware. In her hands, something as simple as a chopping board becomes a work of art, all of which can be bought directly, though she also has commercial collaborations with John Lewis, Liberty and Harrods.
In the decade since Bethan Gray Design was established, it has supported more than 400 craftspeople worldwide that allows Gray to tell cultural stories through the craft and design of luxury furniture and homeware that is original and decorative while remaining comfortable and functional for contemporary audiences. She also encourages new design talent and mentors upcoming female designers. She has recently launched a Prize for Women in Craft with Cardiff Metropolitan University.
Whilst the studio is UK based, Gray's work features extensively in global media, not only recognised with three Elle Decoration British Design Awards but also through regular exhibitions in London, Milan, Paris, Dubai and throughout the United States.