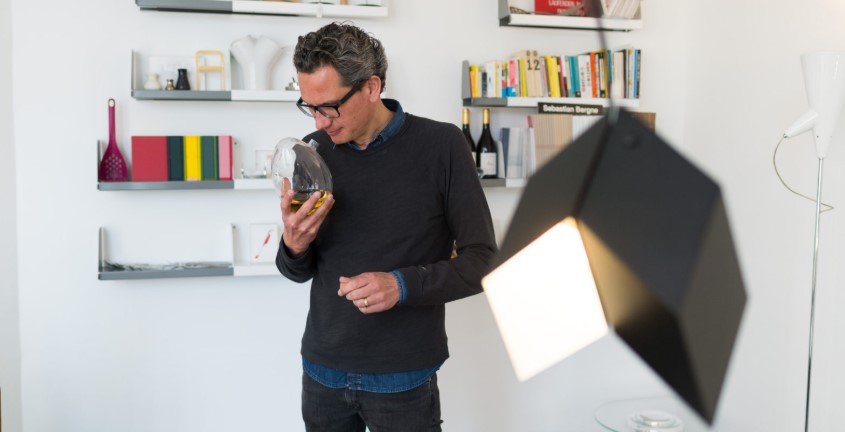 British Industrial designer Sebastian Bergne reinvents everyday objects to make them special by reflecting the way we live our daily lives today. He has previously said he wants everyday products to "make us smile." and having graduated from the Royal College of Art in 1990, he wasted no time founding his studio in the same year. He is a versatile designer, offering an external Industrial design facility to international brands, as a designer and supplier of bespoke objects for restaurants, retailers and individuals as well as producing a growing collection of personal editions.
A recent example is a tray and tableware set for Driade, which was designed to suit those eating in front of the television, as opposed to at a traditional dining table. There's also the extra packaging thumb that keeps the knot tight before it's tied in the packing process, the angled broom head and the Mono-Softmesh cleaning fabric destined to add shine.
Bergne works out of a London studio that regularly collaborates with brands to produce products. Recent collaborations have included Muji, Procter & Gamble, Swarovski and Tefal. His achievements have since been widely recognised with international design awards, frequent publications, exhibitions and inclusion in museum collections such as The Museum of Modern Art (New York) and the Design Museum (London). He is also a sought-after curator, lecturer and commentator on design.
Sebastian Bergne's creation of a travel-friendly set of objects to be used in Shabbat rituals, including a digitally printed bread cloth and portable glass candle holders was created for the exhibition To Go: New Designs for Jewish Ritual Objects, at The Israel Museum in Jerusalem in April 2018. The design has historical and contemporary relevance, with all items stored in a 3D-printed box with hidden joints and reminiscent of an ancient book.